Keep alert. Keep performing.
Alfa Laval has long provided proactive monitoring services to help you optimize maintenance and increase uptime. And now we're taking the idea of condition monitoring to the next level. The new Alfa Laval ConditionAlert gives you an eagle eye's view of your separator's performance at all times. ConditionAlert proactively monitors separator condition and sends immediate alerts if actions are needed. Combined with Alfa Laval's expert analysis, you have the vital information you need to ensure outstanding performance for your separator throughout its long lifetime.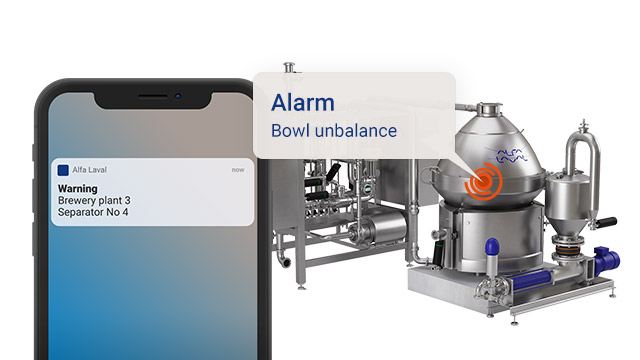 Why choose ConditionAlert?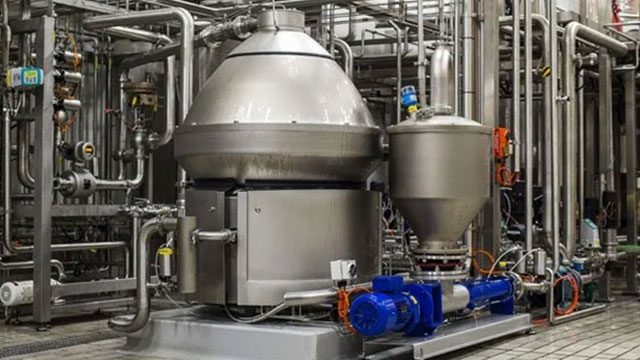 Valuable insights into separator performance
With vital information at your fingertips, you can optimize your maintenance planning and improve the availability of your equipment.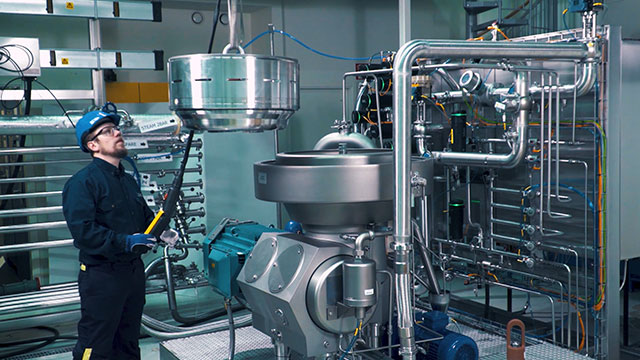 Analysis & visualization from Alfa Laval
As the original supplier of your separator, Alfa Laval possesses unique data to give you the best possible maintenance advice.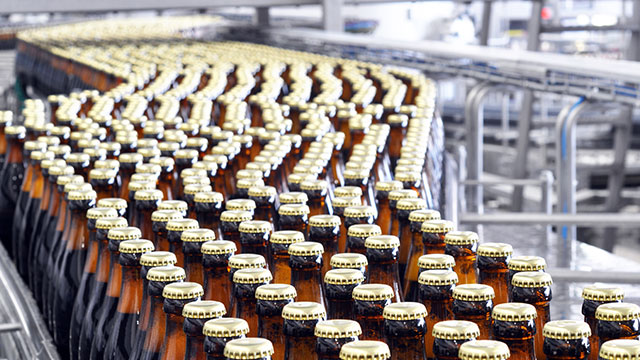 Reduced risks of unplanned stops
Using an analysis model that Alfa Laval has developed from 30+ years of experience with condition monitoring, you can expect a precise diagnosis of separator performance.
The value of saving one day's production
With real-time insight and early warnings, ConditionAlert is a very profitable investment in your business's uptime.
In the cases below, two businesses in two different industries using ConditionAlert prevented unplanned stops in their production.
| | Large brewery (mostly lager beer) | Large refinery (feed stock soy beans) |
| --- | --- | --- |
| Output | 15000 hl/day | 1250 tons/day |
| Profit loss from one day's unplanned stop | KEUR 1200-1800/day | KEUR 80-120/day |
| Annual cost of ConditionAlert for three separators vs one day's profit loss | <1% | <10% |
Added value with ConditionAlert
ConditionAlert helps you deliver on committed production plans, avoiding stress from unplanned stops for your crew.
Working together with Alfa Laval, you also get assurance of continuous improvements of machine availability.
How do I use ConditionAlert?
Plan your maintenance more efficiently using the insights you gain from ConditionAlert, in collaboration with the expert guidance from your local Alfa Laval service team:
ConditionAlert sends an early warning if a rotating component in the separator is not functioning properly. Instead of having to address an unplanned stop, you therefore get early notice to better plan ahead for service and check that all necessary parts are available.
If you need to extend the operation of the separator beyond your next planned service, ConditionAlert can help by continuously monitoring the condition of the machine.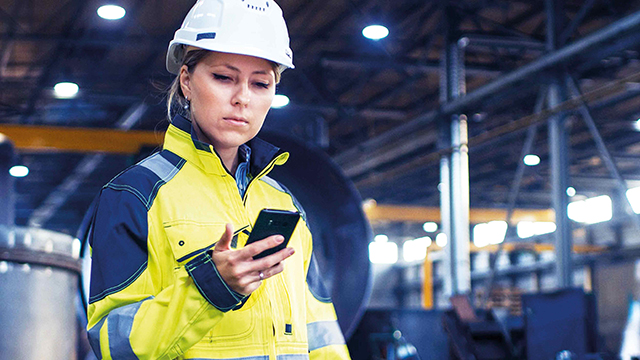 How does ConditionAlert work?
ConditionAlert proactively monitors separator equipment using sensors that continuously measure the levels of vibrations.
ConditionAlert is based on vibration measurements and frequency analyses. These identify the source of any abnormal vibration level to suggest remedies.
A early warning message is then sent to you and your Alfa Laval service team via email or text message.
Alfa Laval's unique analysis model compares collected vibration data with other Alfa Laval separators installed around the world, to provide the best possible reference values for the analyses.
You can monitor the trends and status of the installed separators' condition at any moment, in real-time, on a web interface.
ConditionAlert™ can also monitor temperature and other signals to give you additional insights into the condition of your separator.
What needs to be installed?
Your separator is equipped with additional sensors and a small data acquiring unit, which is connected to a control panel where data is analyzed.
Your control panel has an HMI for visualization of status and trends on site, and up to ten separators can be connected to it. The control panel sends data to the Alfa Laval IoT portal.
You can get the best possible overview of your separators at all production sites by logging into the portal to access data trends.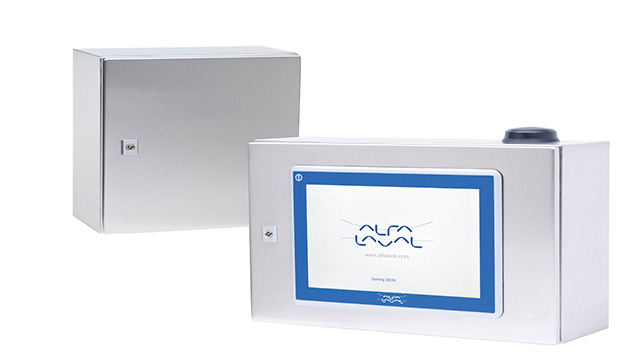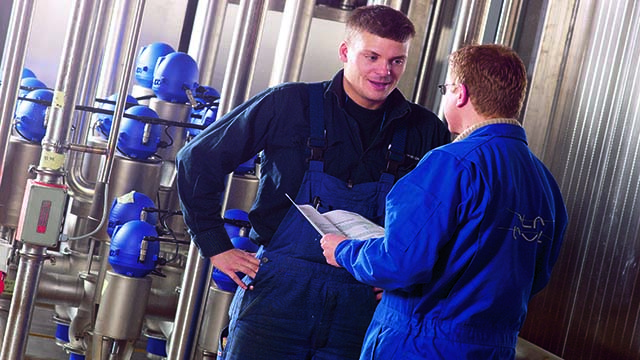 The formula for maximum uptime: an Alfa Laval Service Agreement with ConditionAlert
The best way to take advantage of all of the possibilities of ConditionAlert is to sign up for a comprehensive Alfa Laval Service Agreement that's fully tailored to the specific needs of your equipment and your operation. A Service Agreement ensures you have all the services and parts support you need to get the best possible long-term performance from your separator, including training and maintenance planning. And as always, everything is based on a close, ongoing cooperation between your team and your local Alfa Laval service experts.
A unique analysis model for valuable insight
The true value of ConditionAlert comes from the ability to identify when there is a need for service or when a part needs replacing. This enables you to both avoid unplanned stops and extend the interval between service periods, which translates to maximum uptime and minimum maintenance costs.
All of this is made possible by unique analysis models based on machine-specific data as well as historically measured data from the same types of machines installed around the world. The analysis models act as the brain of ConditionAlert. ConditionAlert thus allows you to take full advantage of Alfa Laval's decades of experience and unique expertise in separation technologies.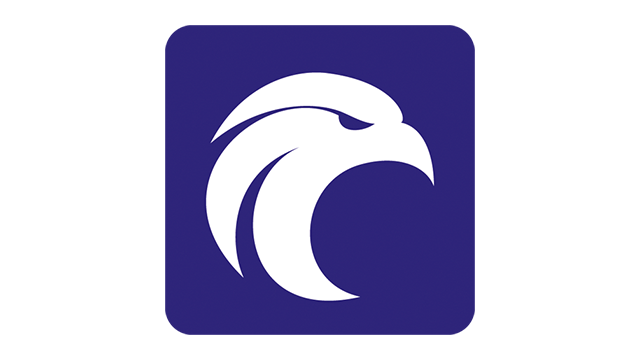 The Separator Innovator
Alfa Laval invented the first disc stack separator and has led the way in the development of centrifuge technology for over a century. We are glad to share with you the expertise we have gained along the way. Click below to visit our Separator Innovator knowledge base and learn more about advancements in separation and the steps Alfa Laval is taking to continue revolutionizing this technology.
---