Industrijsko hladilništvo
From freezing and cold storage cooling in industrial premises to refrigeration of ice rinks, Alfa Laval has the latest, energy efficient solutions. For the food industry we offer highly efficient air coolers that can be combined with plate heat exchangers. Applications range from cooling in slaughter houses and fish and meat processing areas, to climate control in storage rooms for fresh food.
Sorodni izdelki
Related services
Vse
Ploščni toplotni izmenjevalniki
Toplotni izmenjevalci iz cevnih snopov
Zračni lamelni toplotni izmenjevalniki
Our global service network has dedicated specialists, knowledgeable about your industry. We are here to support you with parts and expertise, wherever and whenever you need them.
The Alfa Laval 360° Service Portfolio covers all your needs throughout the life cycle of your equipment — from start-up, maintenance, support and improvements to monitoring services — for maximum uptime, availability and optimization.
By minimizing your total cost of ownership, we help you stay ahead of the competition.
Learn more about our service offer
---
A solution for every application
For storage of agricultural produce – vegetables, potatoes and fruit – Alfa Laval air coolers deliver a perfectly balanced capacity/air flow ratio and an optimal climate for every type of produce. For instance, Alfa Laval banana ripening coolers are used to optimize each phase of the sensitive ripening process.
In modern horticulture, flower-growing installations, for instance, use special Alfa Laval air heat exchangers for cooling and heating the air inside the greenhouse. These systems considerably improve both the quantity and the quality of production – while consuming less energy and reducing operating costs.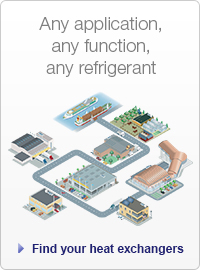 Alfa Laval nudi zanesljive toplotne izmenjevalce, ki omogočajo visoko energijsko učinkovitost ne glede na aplikacijo.
Zahtevaj ponudbo za Industrijsko hladilništvo