Daljinsko ogrevanje
Ploščni toplotni izmenjevalniki in sistemi Alfa Laval imajo ključno vlogo pri daljinskem ogrevanju. Ta zanesljiv in okolju prijazen način zagotavljanja ogrevanja omogoča prilagodljivost pri črpanju različnih virov ogrevanja, vključno z energijo iz obnovljivih ali rekuperiranih virov.
Sorodna področja uporabe
Sorodni izdelki
Related services
Vse
Ogrevanje, prezračevanje in klimatizacija (HVAC)
Ploščni toplotni izmenjevalniki
Toplotni izmenjevalci iz cevnih snopov
Zračni lamelni toplotni izmenjevalniki
Our global service network has dedicated specialists, knowledgeable about your industry. We are here to support you with parts and expertise, wherever and whenever you need them.
The Alfa Laval 360° Service Portfolio covers all your needs throughout the life cycle of your equipment — from start-up, maintenance, support and improvements to monitoring services — for maximum uptime, availability and optimization.
By minimizing your total cost of ownership, we help you stay ahead of the competition.
Learn more about our service offer
---
Ekonomične, energijsko učinkovite rešitve
Posamezne stavbe se oskrbuje s toploto in toplo vodovodno vodo z daljinskim ogrevanjem iz centralne toplarne prek ogrevalnih postaj. Kompaktni ploščni toplotni izmenjevalniki in ogrevalni sistemi Alfa Laval so ključni sestavni deli omrežja za daljinsko ogrevanje. V primerjavi s cevnimi oplaščenimi toplotnimi izmenjevalniki, ki so se pred tem uporabljali v sistemih za daljinsko ogrevanje, je z energijsko učinkovitimi ploščnimi izmenjevalniki družbe Alfa Laval mogoče znižati stroške obratovanja ter vpliv na okolje. Ploščni toplotni izmenjevalniki in sistemi Alfa Laval se uporabljajo v sistemih daljinskega ogrevanja po vsem svetu.
Priročna in prilagodljiva uporaba
Daljinsko ogrevanje je za stranke preprost način oskrbe z energijo. Centralni kotel v sistemu daljinskega ogrevanja je priročnejši in učinkovitejši kot manjši individualni hišni sistemi za ogrevanje. Ker omogoča uporabo obnovljive energije ter rekuperirane energije iz virov, kot so industrijski procesi ter sežig odpadkov, je daljinsko ogrevanje priročna in energijsko učinkovita izbira.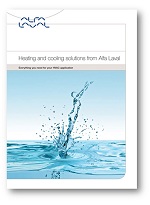 Vse kar vas je zanimalo o HVAC aplikacijah, lahko najdete v Alfa Laval HVAC priročniku
Alfa Laval 360° Servisni portfel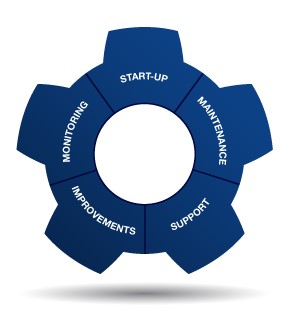 Ohranite vašo opremo v vrhunski delovni kondiciji. Alfa Laval vam nudi celoten portfel servisnih storitev katere so zato potrebne.

Kontaktirajte nas, da bi izvedeli več o kako razširiti perfomanse vaših proizvodov.
Rezulati, ki bi se ujemali, niso najdeni
Zahtevaj ponudbo za Daljinsko ogrevanje